High-value promotional products:


Glass USB-Sticks with LED

 
Of high quality and attracts attention! The patented glass USB-Sticks of the CRYSTAL-family excel with their design. The flacon-like USB-Stick is made of highly compressed glass and brushed metal. In addition, the metal is available in glossy gold or glossy silver version. Alternative caps/tops, made of wood or carbon, result in interesting combinations with the glass body.
The highlight of the CRYSTAL-Drives: Engravings are illuminated with an LED. A fabulous effect.
"With these USB-Sticks you will make the eyes of your customers sparkle with joy!"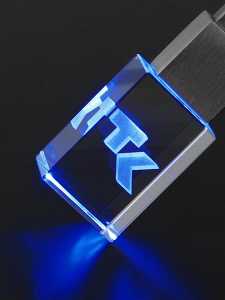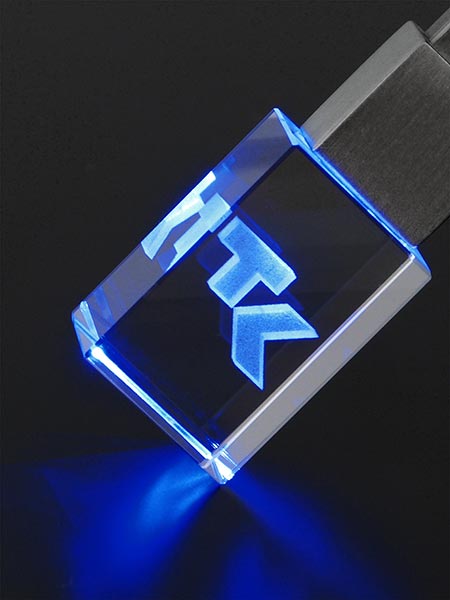 The CRYSTAL-Drive
It is the best-selling USB-Stick of the CRYSTAL-line. Optional equipped with a white, red, blue or green LED.
Available in the memory sizes 2, 4, 8, 16 and 32 GB. With engraving inside the glass, or also on the cap.
You can choose between different packaging options. These too, can be printed with a logo.
The minimum order quantity is 50 pieces. There are bulk prices (for 50/100/250/500
pieces). Sold only to institutions, associations, trade and commerce. No retail sale.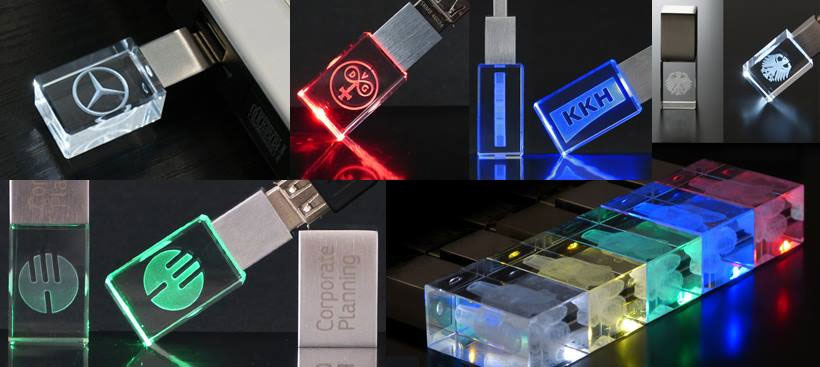 Your logo inside of the glass USB-Stick
We engrave your logo into the glass, and on the cap. Short, concise characters or
logos are ideal. Longer names can be engraved on the cap. We will present an expressive visualisation for release to you. If you need a logo-montage for an internal presentation in advance, please contact us.
Advertising options:
• Engraving inside of the glass 2D (logo) or 3D (object)
• Engraving on the cap
• Printing on the gift packaging
>> Logo-montage animation | Visualisation
How to receive a sample
Convince yourself of the quality of the CRYSTAL-Drive. The feel, weight, shape, and materials in combination with the illuminated sub-surface engraving are an incredible experience!
We will gladly send a sample to your company. You can view it free of charge for 30 days. Then send the sample and the included sample invoice back within this term (or extend it), and we will credit the sample invoice entirely.
You and your surroundings will be stunned by this illuminated USB-Stick!

Contact: 0049 (0)7131 64938-23
eMail: info@cocos.de
We developed the USB-Sticks in 2011, got them ready for series production, and received the patent in the meantime.